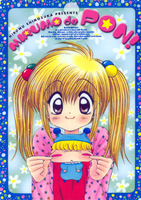 Mirmo de Pon! (ミルモでポン! Mirumo de Pon!) is a manga series written by Hiromu Shinozuka and serialized in Ciao magazine from 2001 Jul through 2005 Dec. It was also published in twelve collected volumes by Shogakukan. The manga series was awarded the 2003 Kondansha Manga Award and the 2004 Shogakukan Manga Award for children's manga. The series was licensed for an English language release in North America by Viz Media. "Mirmo!" made its first television debut in the UK in January 2001 on Nick Jr. and ended in late 2004. Four months later, the show aired in Japan for the first time.
Ad blocker interference detected!
Wikia is a free-to-use site that makes money from advertising. We have a modified experience for viewers using ad blockers

Wikia is not accessible if you've made further modifications. Remove the custom ad blocker rule(s) and the page will load as expected.