Azumi Hidaka

Voiced By

Hitomi (Japanese), Larissa Wolcott (English

Gender:

Female

Age (at first appearance)

14

Birthday

UNKNOWN

Origin

Earth

Affiliation(s)

Kanji

(日高 安純) Hidaka Azumi

First Appearance

Episode 1 (anime) Chapter 1 (Manga)

Relationship(s)

NONE

Partner

Yatch
A brash and impatient girl who loves Dylan and is rivals with Katie. She often beats up Katie whenever she sees Katie with Dylan, usually a funny sneak attack. She can be very vain at times, but helps her friends if she decides to. She's partners (or more like partner-in-crimes) with Yatch since Azumi wants Yuki and hates Katie and Yatch hates Mirumo, Katie's fairy friend. But most of the time, she leaves Yatch to do her household chores and treats him like a slave, but seems to have a soft spot for him. She also has a younger brother but is rarely seen. At the near end of anime season four, Azumi challenged Katie to know who really is the right one for Dylan. Katie wins at the end of the battle. Azumi accepted her loss but warned Katie and said that "if she starts doing the wrong thing again, she will never let Katie take that chance again." In the manga, after she broke up with Dylan, she went dating with Sumita and Hirai but failed, and she is the idol of Sasuke and Hanzo. (Called Hidaka in the manga and Japanese anime, Azumi in the English anime). (First appearance: episode 1)
Appearance

Edit
Azumi is a beautiful girl with dark hair. According to Mirmo, that Azumi is prettier than Katie.
Personality

Edit
Azumi is a selfish impatient girl who hates losing Dylan to Katie. She is a very strong willed person.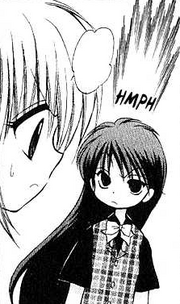 Ad blocker interference detected!
Wikia is a free-to-use site that makes money from advertising. We have a modified experience for viewers using ad blockers

Wikia is not accessible if you've made further modifications. Remove the custom ad blocker rule(s) and the page will load as expected.